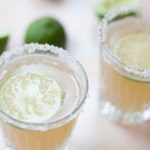 Yes?  The answer to the the much asked question, "Will the alcohol kill the probiotics?"  From all the reading and researching, I will take the safe stand and say, yes (question mark).
Several articles say that the good bacteria die slowly, so mix and drink your cocktail right away. Ha! ok.  On the other hand, several articles say the beneficial bacteria survive just fine.  My question is … how do you know?   I highly doubt any of this has been reliably tested.  So let's use common sense.  Kombucha has about .05% alcohol content and the probiotics stay intact in that medium just fine.  They also survive low acidity, I know this because I can make new SCOBYs with very acidic kombucha.  Articles by Dr. Mercola, backed with research data, prove that food based probiotics survive our stomach acids.  So these are tough little buggars. So maybe….
BUT really? When you are imbibing, are you really thinking about probiotics?  Nah.  It's too good to be true, right? Hmm.
I will make the case for using kombucha for cocktails:
~There are so many other health benefits from kombucha!  Digestive enzymes. Vitamin B.  Polyphenols  (or better known as antioxidants). Liver support.  And more.   Seems to me, these are all good support for the body while celebrating with the occasional mixed drink.
~Taste!  well yeAh.  Kombucha has that wonderful sweet- tart flavor that pairs well with your favorite mixer, wine or even beer.  My flavors will stir up your creative juices for amazing new cocktail recipes.  Spices and herbs, fruits and juices..already in there.  Makes it easy peasy.
~Bubbles! just enough and not too much to create that perfect balance.  Flavors that are more bubbly are Ginger Lime, Blackberry Sage and Apple Chai.
~Kombucha is an amazing hang over cure.  If you overdo it, you have your cure handy dandy.  But if you care about your health, please treat your body kindly and moderate! Hint: For each ounce of cocktail you drink, drink that same amount of water.
If you have a problem with drinking alcohol, please do your research before drinking kombucha.  It may not be for you.
My favorite mixed kombucha drinks:
Kombucha Lady's Tropical Strawberry or Ginger Lime Booch-a-rita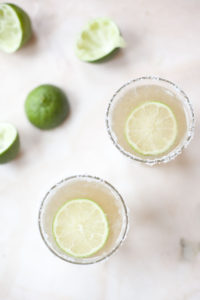 Rub the rim with lime wedge and salt or sugar the rim!
6 oz Tropical Strawberry Kombucha or Ginger Lime Kombucha
3 oz Tequila
3 oz Triple Sec
3 oz Fresh lime juice
Honey or Agave to taste
The Kombucha Lady's Sangria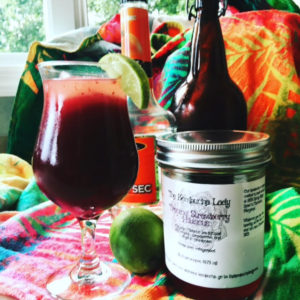 Equal parts kombucha and wine or champagne, a spash of triple sec.  Add some seltzer water for more bubbles.  Add slices and cubes of fruit like limes for Ginger Lime, Strawberries with Tropical Strawberry..you get the idea. Let it sit overnight in the fridge to infuse the flavors.  The possibilities are endless here! (Best to take out the used fruit that comes in the jar)
TKL Orange Spice Rum Runner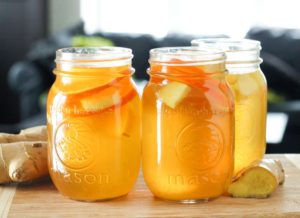 6 oz Orange Spice  (or Apple Chai Kombucha is good here as well)
3 oz Spiced Rum
shake of nutmeg on top and a fresh orange slice
TKL Boocha-tini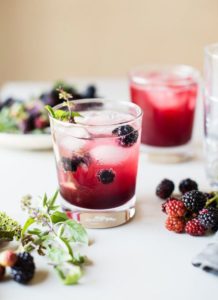 3 oz. TKL Blackberry Sage Kombucha
3 oz. vodka (I like Polish potato vodka)
2 oz. Triple sec
garnish with your choice of herbs..a sage leaf, thyme, rosemary or savory.
TKL Mojita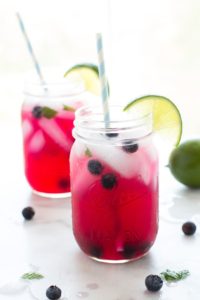 Check out the recipe here
Booch Shandy..no kidding!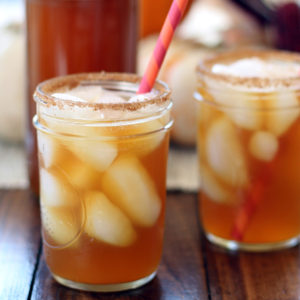 Equal part beer to kombucha.  We love a sour beer with Tropical Strawberry.  Try it! Check out this article so you don't think I have lost my mind.
Other mixes: A Pale Ale with Ginger Lime,  Cheapo beer with Apple Chai… keep going.  Healthy beer.  It doesn't get too much better in my book.
TKL Ginger Mule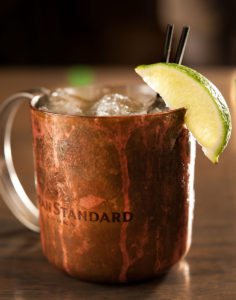 6 oz Ginger Lime Kombucha
2-3 oz Gin (or vodka)
Twist of lime
How did your drink come out? Leave me a comment!